apartment 75 meter installments over 12 years for the first time in the Administrative Capital
Features
Balcony
Electricity meter
elevator
land line
natural gas
Pets are allowed
security
water meter
Details

The Land Developers is carrying out construction work on their mega project called Armonia
Which expresses the residential buildings that were created at the highest levels of luxury, and the modern modern vision blends with the architecture on the one hand and the green environment with its attractive brilliance on the other hand, to feel that you have a rich garden full of vitality and positive energy for housing for you and your family, with the distinction in the compound location Armonia is the distinct administrative capital, which increases the project's acquisition of sales, customer satisfaction, and gives more solid integrated dimensions for the success of the project's planning idea without failure.
Design of Armonia New Capital
Those looking for privacy in residential life, with a mixture of splendor in the designs of high-end engineering and architectural buildings, have a unique choice to own in the Armonia New Capital compound, which reflects the modernity of the era.
Through his use of the highest engineering techniques that have been harnessed in drawing and forming artistic paintings, it appears through the method of construction, which depended on the external shapes, very creative.
Embodying paintings of greenery and rare plants that are cultivated by specialists in the field of agricultural environment, and setting appropriate for the environment and climate of the Administrative Capital.
These plants improve the clarity of the atmosphere with a feeling of psychological comfort and calm.
Many projects are concerned with serving individuals, but Armonia is concerned with providing a distinctive family atmosphere for all family members, adults and children, while providing cover of safety, privacy and protection, and meeting all their requirements in one place.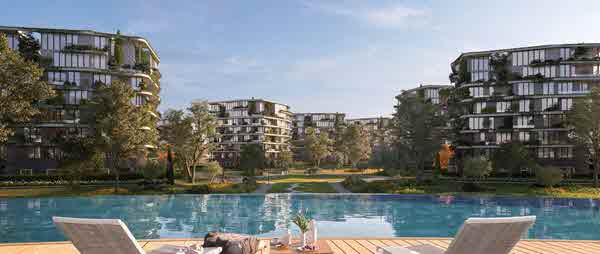 Armonia compound, the administrative capital
The Armonia project extends over a vast area of 42 acres, all units enjoy equally providing the largest amount of green spaces and a stunning view.
To give a feeling of psychological comfort away from overpopulation and urban inflation, with the opportunity to enjoy personal freedom and complete privacy for each unit independently
Private parking XI buildings:

The limited spaces consist of two bags and the area ranges from 156 square meters to 185 square meters.
There are medium spaces consisting of three main baks, and spaces range from 187 square meters to 191 square meters.
The largest spaces, you can find 4 bucks, are from 331 square meters to 346 square meters.
Armonia administrative capital services
Land Real Estate Development has worked hard to establish a project that you will find is an

integrated mini-city with all the required services and features: –
Operational services
Regular maintenance.
Security gates and security personnel.

Entertainment services
Children's play and play areas.
Green spaces designated for pets, isolated from individuals, and it is possible to play, play and climb freely in them without disturbance and in privacy.
A walkway for individuals and another for jogging.
Cycling lanes.
Gymnasiums.
Industrial fields for football and basketball.
Recreation halls with yoga.
Spa and cosmetic.
Industrial swimming pools for adults and children.
Fully equipped BBQ places.
commercial services
Commercial shopping centers for the most famous international brands.
Retail stores of food and refreshment goods.
Pharmacy outlets.
A diverse selection of the largest international restaurants.
The most important cafes and cafes.
ID:

4076

Published:

27 August، 2020

Last Update:

31 August، 2020

Views:

538